Our Network
Because we both own the OC192 Internet network with colocation facilities and wholesale broker for other large colocation data centers you can rely on us as your one-stop source for high quality colocation services at wholesale prices. Because of this we offer one of the largest variety of colocation services and options.
Backbone powered by Level(3)™ and Internap
Level 3 has built an advanced fiber-optic network utilizing Internet Protocol (IP) based technology. The Level 3 network combines both local and long distance networks connecting customer's end-to-end. The company has 92 markets in service; 72 in the U.S. and 20 in Europe.
The Level(3)™ infrastructure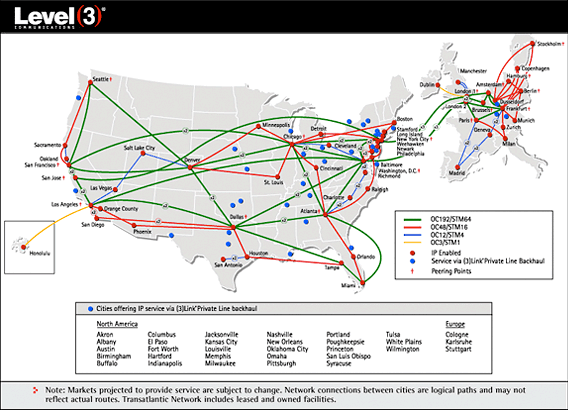 The Internap P-NAP Network Backbone
Using its patented technology and the existing Internet network infrastructure, Internap created an innovative way to route data and avoid the Internet's points of congestion. Rather than provisioning traditional single ISP network access, Performance IP service intelligently routes across up to 8 integrated NSP networks in the Internap Private Network Access Points (P-NAPs). This insulates your traffic from the risk of network outages, providing reliable, stable and predictable connectivity.
Internap Defined SLAs
Unlike our competition, Internap approaches customer service and support proactively. Through constant network monitoring and management, we are able to alert our customers to network issues and correct them efficiently. Internap has purposefully defined our Service Level Agreements (SLAs) to lead the industry, so customers get reliable performance supported with proactive service and crediting - that's why our agreement is a guarantee.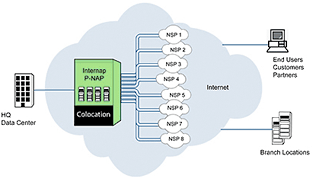 Find a Local Network Operations Center
Nulla pellentesque, lectus nec gravida molestie, dui lorem lacinia nunc, at hendrerit felis sem sed tellus. Cum sociis natoque penatibus.
national network operation center directory
Search by Popular Metropolitan City
California

New York

Illinois

Texas